Basic Number Overview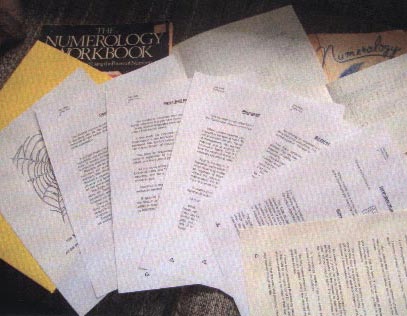 $ 50.00 USD
A Numerological examination of your name and birthdate, this will provide you with information about the "Major Points" on your chart: The Personality Number, naming what you show to the world; the Inner Self Number, which reveals your intentions for this human experience; your Destiny Number, which indicates the direction you will reach later in life. You will also find out about your Birth Force: a vibration which is always with you, and has an impact on you interact with the world around you and the people in your life.
(less extensive than shown)
Jo Leath was first introduced to Pythagorean Numerology in the early 1980s. Since then she has studied and practiced, and developed a profound respect for Cosmic Geometry as a key to identifying the triumphs and challenges of individual lives.

Using Number Charts she is able to address the question Who am I? by guiding Seekers to the strengths and talents they have brought with them into this incarnation.
Prepared from your birthdate and birthname, charts can be ordered from a distance via e-mail: branjo@auracom.com or by using email to arrange personal contact.

You may purchase a single session for an overview of your chart, or dig more deeply into the details of your Life Path, and add monthly support through a Coaching Program.

There is a product that can serve your needs.
(see below for online purchase)
The Number Path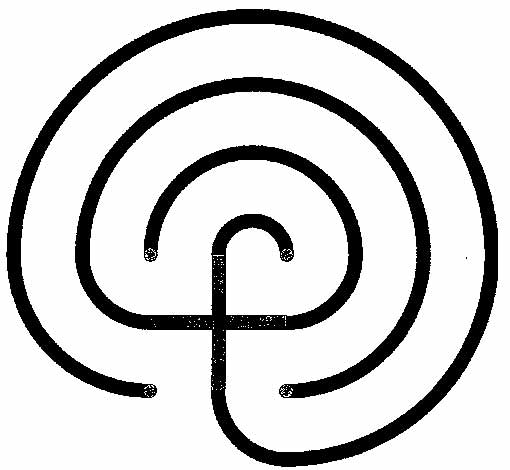 $ 147 USD
Your individual Number Path is revealed when your birthdate is subjected to a few simple calculations and illustrated with a 3-circuit Cretan labyrinth.
The outer path, called The Container, shows the energies which came with you into the world, and are present to support your intended accomplishments. Each turn, each change of direction, each shift has a name and a purpose.
The structure underneath is present in your life whether or not you pay attention, but when you are aware and working with it, the path smooths and progress replaces struggle.
Numerology Birthdate Chart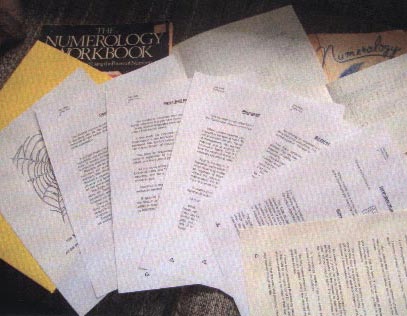 $ 197.00 USD
This product brings a complete understanding of the Cosmic Energies you accessed when you entered into the human experience.
This can help you to understand the purpose you brought with you: your intention for this lifetime and some of the karmic circumstances you have planned to address.
You will learn how to align yourself with the energies which serve your unfolding path.
Purchase includes three months of personalized information to aid you in maximizing the frequencies that will promote your highest good.
There is also the option to subscribe to on-going coaching with Jo.
Numerology Name Chart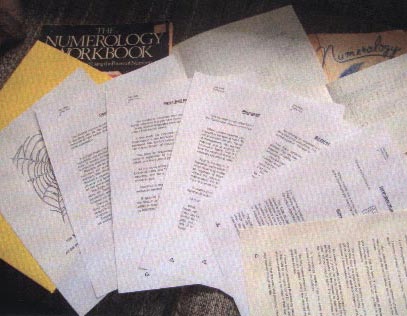 $ 477.00 USD
This product examines the name you were given at birth and the energies it carries through your life.
The Chart includes the changes you have made to it, the nick-names, pet names and other names that you have chosen or which others have applied to you.
Learning this can help you to understand the energetic vibrations which support your mission, and how you can make small changes which will have great impact on your ability to fulfill your most precious dreams.
Purchase includes:
~ Details about the Numbers on the major points of Personality; Intentional Self; Destiny; and Birthforce.
~ The Birthdate Number Grid including analysis of the lines, blanks, and individual cells
~ Points of Intensification within the name and identifcation of karmic lessons.
~ Numbers vibrating on the Four Planes of Existence: Physical; Mental; Emotional; and Spiritual.
~ An interpretation of the Pinnacles, Challenges and Sub-paths illustrated on a labyrinth path.
~ A month of individual coaching as you implement this learning into your daily life, and an option to subscribe to regular coaching support in the future.
~ Discounts on annual updates.
~ Discounts on compatibility charts
~ E-mail access to Jo